Distillerie Aperte 2017
We are waiting for you at
Open Distillery 2017!
Sunday, October the 1st
from 10:00 to 18:00
at the Poli Distillery the
#fictionday goes on stage!
The Poli family is waiting for you
in Schiavon Via Marconi 46,
to discover why artisanal
Grappa is so good.
Entrance is free.
For more info please call
+39 444 665007 or write
to info@poligrappa.com.
Open Distillery 2017:
#fictionday
"Di Padre in Figlia" at the Poli Distillery
where Grappa is a true story,
since 1898.
"Di Padre in Figlia" è is the title
of the Rai tv series that has among
its protagonists the Poli Distillery.
Discover the real TV series set:
the artisanal distillery, where the
crucial scenes of the successful
Rai TV series were filmed.
A red-coloured dream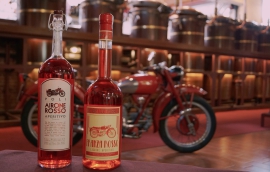 In addition to Grappas and distillates, you can taste Airone Rosso,
the Poli family's aperitif that inspired
the TV series' end.
*Distillerie Aperte is an initiative by Made in Vicenza.