Distillerie Aperte 2018
Distillerie Aperte 2018:
Here comes the Vaca Mora!
We're waiting for you,
adults and children,
for a journey
with fantasy
aboard the historical
steam train.
SUNDAY
7TH OCTOBER
FROM 10 AM
TO 6 PM.
Free entrance.
For information please phone
0444 665007 or email
info@poligrappa.com.
The "quick one"
of the driver
GioBatta Poli in 1885 opened
the 'Al Cappello' tavern
near Schiavon train station.
Passengers would often enjoy
a glass of amaro, a bitter liqueur,
while waiting for the "Vaca Mora"
(black cow) steam train.
Sometimes also the driver
came in...!
A few drops later, in 1898,
a distillery was built on
the tavern premises.

120 years after,
we dedicate a tribute
to Vaca Mora, the train
that changed the story
of our territory.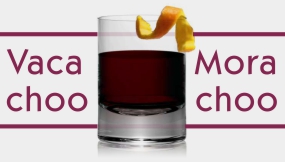 For the occasion we will introduce
Vaca Mora choo choo, the new drink
prepared with the bitter liqueur
by the Poli Family.

*Distillerie Aperte is a registered trademark
by Made in Vicenza, a special enterprise
by the Chamber of Commerce of Vicenza.