Caffè corretto Vs Rasentin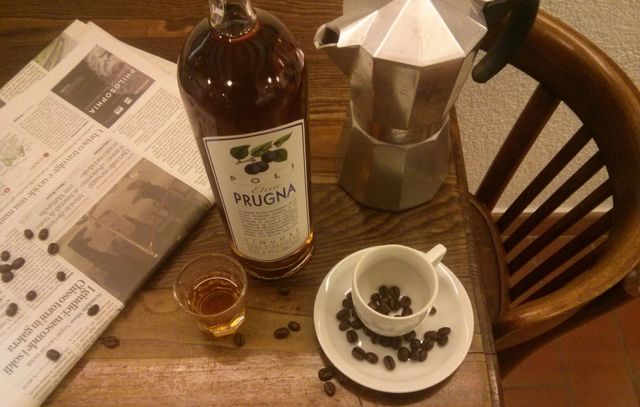 "Lungo, macchiato, nero, corto, in tazza grande…"Italians always know how to have their coffee, but only few know the difference between "caffè Corretto" and "Rasentin".
In both cases the leading role always goes to Grappa, an extraordinary spirit which is able to turn a simple coffee into an exciting experience.
Here's the main difference: in "caffè corretto" a drop of Grappa is added to the coffee to intensify the aromas of the hot coffee that's just been poured; in "Rasentin" Grappa is used to clean the bottom of the coffee cup, after drinking the coffee.
A simple act that is becoming an authentic ritual.
Now that the issue has been clarified here are the 5 golden rules for a perfect "Rasentin":
1: It would be better with no sugar
According to "Rasentin" purists, adding sugar to coffee would be like interfering with a husband and wife, seriously risking to break the Grappa and coffee marriage up. We don't mind a "sweetened marriage" though.
2: Which Grappa would be the best match
A Grappa that's been aged in wood barrels, such as our Sarpa Oro, would be recommended for "Rasentin"; the warmth of the coffee cup and the little coffee froth left at the bottom will enhance its spicy aroma. Bassano Classica, an intense young Grappa, or Prugna, an almond flavoured liqueur, could also be a suitable pick.
3: Which spirits don't go well with coffee
Fruity spirits with orange and lemon scents would give a slightly acid aftertaste and they would fit better into a single life.
4: Ideal temperature when serving
For a fully enjoyable "Rasentin", Grappa should be poured at room temperature, and, most of all, the coffee cup should be warm in order for the scents to give off more easily.
5: create the right atmosphere
At home or at the bar, give yourself a little time to relax sipping your favourite Grappa.
And they all lived happily ever after.